Saturday April 8, 2017 1:00pm – Presented at Telly's Greenhouse, Troy, MI
Step into the garden with the Queen and her ladies as they cut long stems of lavender to lay between their linens to repel moths or to mix with other fragrant herbs to use for sachets, teas, or small tussie mussies tied up with ribbons. Stay after the presentation and enjoy lemon lavender cookies and a cup of tea. 
Our presentation was a huge success.  Judy did an outstanding job of presenting information about Queen Victoria, the times and the gardens.  Annie gave an excellent presentation on myrtle and together they created a lovely display table surrounded by plants and an orange tree, just like Victorian times!  The tea and cookies were also a big hit.  Click below to get the recipe.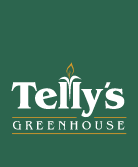 Telly's Greenhouse:   3301 John. R. between Big Beaver & Wattles, Troy, Michigan, 48083